WELL Health and Safety Rating
Get back to the places you love.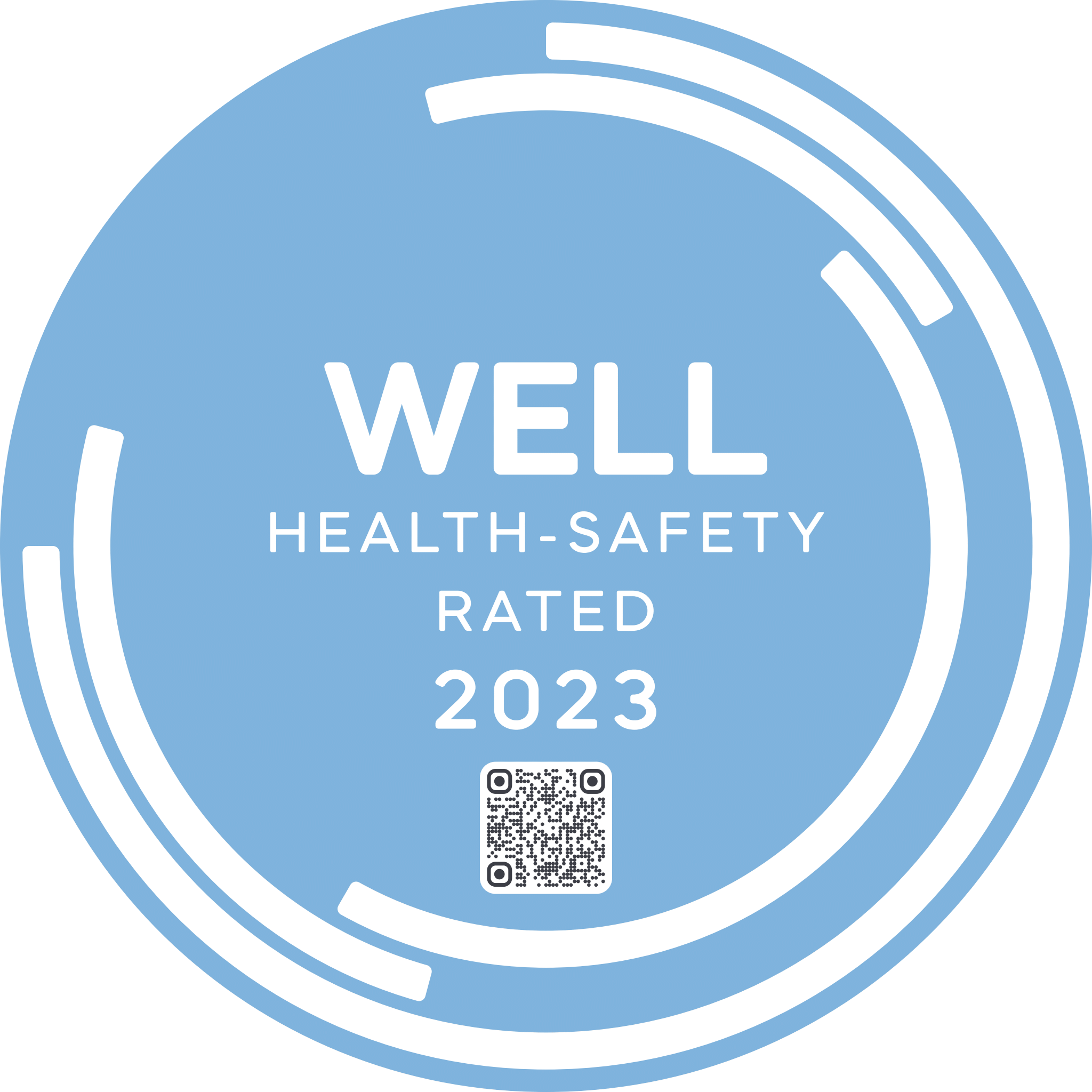 Be DTLA by The Souferian Group is extremely proud to be the first apartment building in Los Angeles and all of Southern California to achieve the International WELL Building Institute's WELL Health-Safety Rating.
Be DTLA believes in demonstrating our commitment to the wellbeing of our residents, staff and visitors and establishing our community as a leader and innovator within the market.
The WELL Health-Safety Rating is a third-party designation that evaluates a building's health and safety practices, informed by the COVID-19 pandemic but with much broader, long-term goals of supporting people's health and safety needs. In pursuit of the WELL Health-Safety Rating, Be DTLA showcased evidence-based best practices to support our tenants' wellbeing and address their needs well beyond the current crisis – comprehensive cleaning and sanitation procedures, emergency preparedness programs, air and water quality management, enhanced stakeholder engagement and heightened communication.


Enhanced Cleaning & Sanitization Procedures



Reduce Surface Contact – Be DTLA implemented strategies to reduce the amount of contact that people have with high-touch surfaces.
Improve Cleaning Practices – Rigorous cleaning protocols implemented to address high-touch surfaces, including annual trainings for cleaning staff and detailed documentation.
Select Preferred Cleaning Products – Restricted use of hazardous or harmful ingredients in cleaning, disinfection and sanitization products.
Reduce Respiratory Particle Exposure – Design features implemented at Be DTLA to minimize instances of contact with contaminated respiratory particles.
Support Handwashing – Be DTLA instituted protocols to reduce the transmission of germs associated with washing and drying hands, including provision of quality handwashing supplies and sanitization offerings, as well as signage detailing effective handwashing.

Emergency Preparedness Programs
Develop Emergency Preparedness Plan – Risk assessment conducted to ensure the resources, education, training and management plans necessary to respond to diverse emergency situations.
Create Business Continuity Plan – Be DTLA developed a business continuity plan that identifies critical business functions necessary for recovery and ensures remote work readiness.


Health Service Resources
Provide Sick Leave – Be DTLA promotes stay-at-home policies and provides short-term and long-term sick leave for employees to support their overall health and well-being.
Provide Health Benefits – Access to essential health services, screenings and assessments provided.
Support Mental Health Recovery – Be DTLA provides access to mental health services and resources.
Promote a Smoke-Free Environment – Policies implemented to deter smoking, minimize occupant exposure to secondhand smoke and reduce smoke pollution.


Air & Water Quality ManagementStakeholder Engagement & Communication

Assess Ventilation – Be DTLA assessed their ventilation to further increase fresh air supply, thereby diluting air pollutants and minimizing indoor air quality issues.
Monitor Air & Water Quality – Be DTLA is committed to the annual monitoring of water and indoor air quality.
Manage Mold & Moisture –A moisture management plan and inspection protocol was adopted by Be DTLA to limit the potential for bacteria and mold growth.
Stakeholder Engagement & Communication
Promote Health & Wellness Achieved – Committed to a culture of health, Be DTLA implemented and reinforced programs, amenities and policies available to support health and safety, including regular communications and occupant education.
With the receipt of the WELL Health-Safety Rating, Be DTLA continues its emergence as a leader in the wellness space, inviting our residents to Be Well. Be Centered. Be Home.